Dr. Mark Wogahn – Tarzana Chiropractor
Proudly providing the best in chiropractic care to Tarzana and Westlake Village residents for over 35 years!
My Journey to Chiropractic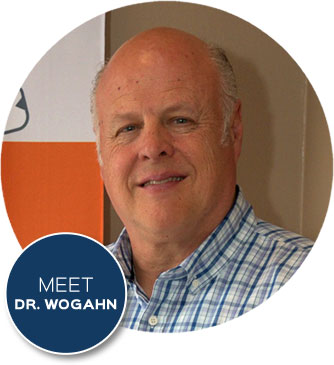 My first exposure to chiropractic was going with my mom as a boy and watching her receive care. It intrigued me to see my mom walk in with a bad mood due to a painfully stiff neck and walk out with very little pain and a much improved demeanor.
Then, as a young boy I started getting headaches and neck pain that brought my quality of life down. Chiropractic was the answer I needed and it continues to benefit my life today. Western medicine has its place but we must trust our bodies to perform without interference.
Looking back at yesteryear it was a no brainer for me to get involved with chiropractic. I enjoy people from every walk of life and have the desire to help individuals feel better. I like to use my hands and stretch my mind to new and exciting opportunities.
Chiropractic Education
After graduating from high school, I completed my prerequisites for chiropractic college at Valley College. Then, after researching different chiropractic schools, I decided to go to Pasadena College of Chiropractic. I felt this was the most well rounded college for me. They taught a variety of adjusting techniques that I knew would help me in my career.
Chiropractic Philosophy
Chiropractic is about so much more than just back and neck pain relief. It really is about health and wellness.
Health starts with yourself. Along with keeping your nervous system functioning properly through chiropractic adjustments, it is important to eat wholesome food that is live (organic) and delicious. It is also vital to exercise. Without it your body cannot get the motion it so desperately needs to work correctly. You must also give attention to your mental, emotional and spiritual health. These like food and exercise must be worked on daily.
At Active Care Chiropractic, we focus on all four of these aspects of health and see great results. It is such a pleasure to see patients get the function back that they had lost years ago; function that they thought would never return. We had a patient who came to us with complaints of pain in his neck, back, right shoulder and arm. He was also suffering from extreme headaches that would put him on bed rest. His M.D. started him on self induced injections 1 to 2 times a month to relieve the crippling pain. Through chiropractic adjustments and our focus on whole health and wellness, his headaches became less intense and less frequent. His quality of life was improving greatly.
A Little About Me
I am a family man with an awesome wife of 25 years. My adult daughter is an incredible human who is studying to be a teacher. Weekends are consumed with family activities, hiking and walking our 5 year old Golden Retriever. Lots can be learned from a wonderful dog.
In my free time I enjoy kayaking with my wife. This has been a great opportunity to relax in nature while getting the exercise we need. Our next adventure will be to take the Kayaks out on the ocean; we will try fishing and snorkeling off them.
I also enjoy getting involved in my local community and in the chiropractic community. I am a proud member of the California Chiropractic Association, CCA.
Enough about me! How can we help you with your balance and quest for better health. Today's safe and natural chiropractic care awaits you. Give us a call in Tarzana or Westlake Village so we can guide you to optimum health.
---
Chiropractor Tarzana | (818) 342-2299